Cookies/Bars/Pops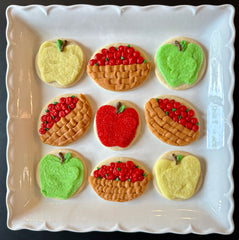 Fall Sugar Cutouts
Our Fall Sugar Cutout Cookies are carefully hand decorated and available individually or by the dozen in a variety of seasonal shapes below.  Cookies come boxed or individually heat sealed for an additional fee. Make your selection below.

Our Fall Collection is available for pre-order for September 5th or later. 
Cake Pops - Fall/Winter
Cake pops are made with decadent cake and chocolate and come in a variety of flavor combinations. Regular and Gluten Free options are available  to order online or stop by our shop to enjoy one today!
A perfect treat for dessert bars and party favors.  Please contact us with at least one week's notice to inquire about special color requests or orders of more than 2 dozen.
Cookies
Our cookie recipes are a family tradition. Made from scratch with high quality ingredients, they're perfect for a party or a quick treat for yourself! 
Brownies & Bars Fall Flavors
Thick, fudgy brownies and tart lemon bars are made from scratch and available daily. Brownies and Bars can be purchased in generous individual squares or by the dozen. Some flavors may not be available to preorder, but may be available for in store purchases. Stop by to see all of the flavors available.
Party Trays
Party trays are the perfect treat for any get-together. Combo trays include an assortment of cookies and brownies, while cookie trays include an assortment of cookies only. For custom assortments, please contact us. We reserve the right to substitute cookie or brownie flavors based on inventory.
| | | |
| --- | --- | --- |
| Small (12") | Combo | 24 cookies & 12 brownie triangles |
| | Cookies | 40 cookies |
| Medium (14") | Combo | 36 cookies & 20 brownie triangles |
| | Cookies | 60 cookies |
| Large (16") | Combo | 48 cookies & 24 brownie triangles |
| | Cookies | 78 cookies |
Cookie Flavors
Gourmet Chocolate Chip, Orange Oatmeal Raisin, Peanut Butter (plain), Peanut Butter (chocolate), Ginger Molasses,  Snickerdoodle, Ricotta
Brownie & Bars Flavors
Fudge and seasonal flavor
Cannoli
Crisp cannoli shells are filled with traditional sweetened impastata cheese, plain or dipped in chocolate chips , and dusted with powdered sugar.
$ 5.00
Starting at
Sold Out