Events
Check here for upcoming events at Dolce Vita!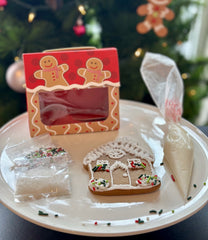 Christmas Cookie Kits and Crafts
NEW! Take home one of our fun and simple DIY cookie kits. Fun for all ages!
Sugar cookie kits include 18 assorted cookies with icing bags and sprinkles.
Gingerbread kits include a pre-assembled house with icing, candy and sprinkles.
Crafts include two gingerbread cookies or two large sugar cutout cookies, ready to decorate with a bag of icing and sprinkles!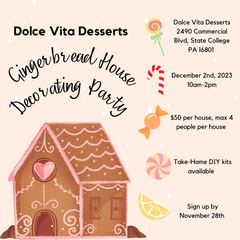 Gingerbread House Decorating Party
Join us on December 2 for a Gingerbread House Decorating Party or order a kit to go!
Decorate a pre-assembled Gingerbread house with an array of candy options and icing! Or take home one of our DIY kits to enjoy at home!
Date:  Saturday, December 2nd
Time: 10am - 2pm
Cost: $50 per house, maximum 4 people per house due to available space
Register by November 28th
Milk & Cookies with Santa
Come celebrate the most wonderful time of the year with us at Dolce Vita Desserts! This event is perfect for the kids, or anyone who is young at heart. Bring your friends and family to share in the joy of the season.
Start by decorating a Holiday sugar cookie with icing and sprinkles. Then enjoy your cookie with a glass of milk and visit with Santa Claus. Remember the fun you had by taking pictures with Santa by the Christmas tree!
Date:  Saturday, December 9
Time: 10am - 2pm (Santa will be taking a short break from 12pm-12:30pm)
Cost: $10/person or $12/person at the door
For those with dairy or gluten allergies, we can substitute a GF/Vegan cupcake and juice box or water. Select GF/V below.